IIH Research Priorities
The IIH Priority Setting Partnership (IIH PSP) was established by IIH UK in 2017, in collaboration with the James Lind Alliance (JLA), to bring patients and clinicians together to identify the shared research priorities for Idiopathic Intracranial Hypertension in adults (16+).
Watch the Video to learn more about the JLA and why the IIH PSP was so important.
Over the course of 2 years people with IIH, their carers and health care professionals took part in a standardised process to come up with research priorities guided by the James Lind Alliance.
The first survey in November 2017 asked people to identify their research questions for IIH. This had a total of 349 respondents which raised 1799 uncertainties (unanswered questions) about IIH.
A steering group led by the IIH UK lead for the PSP Krystal Hemmings consisted of people with IIH, representatives of the JLA and other stakeholders; evaluated the responses to identify true unanswered questions to inform a second survey.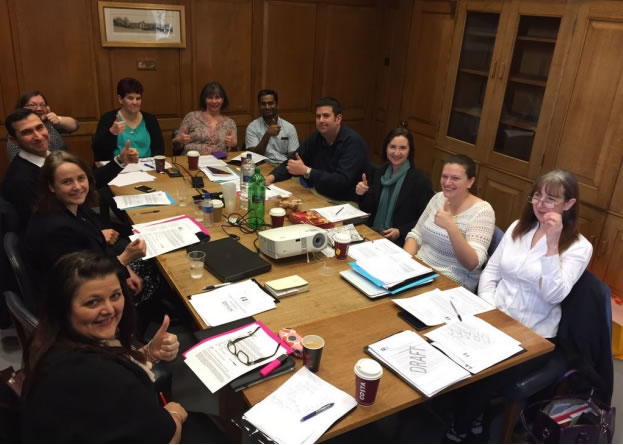 The second survey contained 48 questions and responders were asked to select the 10 that were most important to them. Secondly, they were asked to rank those 10 in order of most importance to least important. The second survey was completed by 401 individuals with IIH, friends or carers and 111 healthcare professionals. The rankings were reverse scored and the total scores for the two groups calculated separately to ensure an equal weighting. A final list of 26 prioritised questions were selected, which included the top 10 for both groups. These questions were taken forward to the final workshop.
The final workshop took place at the Royal College of Ophthalmology in London on the 27th of April 2018. The day was overseen by three JLA advisors and involved individuals with IIH, their carers, healthcare professionals and PSP partners.
Participants were asked to rank the top 26 questions before attending the final workshop and this helped to facilitate the initial discussions, by highlighting the areas of most and least importance to a wide range of individuals. Working together throughout the day, we easily came to a consensus on the rankings for all 26 questions, with an agreed top 10 priorities..
Idiopathic Intracranial Hypertension Top 10
Please help us to raise awareness of the outcomes of this PSP and the need for more research into IIH by sharing them with your contacts and tweeting us at #IIHtop10.
To ensure that future research into IIH is focused on the highest priority areas, we encourage research funders to consider the priorities identified as part of their research strategy and prioritise funding towards these. We also encourage researchers to focus their efforts on addressing the highest priority questions, which will not only ensure that these key areas are addressed but will also strengthen grant applications.
A information pack on IIH top 10 research priorities is available from IIH UK for health care professionals please contact info@iih.org.uk to order yours.
The IIH Top 10 was published in a peer reviewed open access journal to ensure that as many people both patients and clinicians are able to access the information.
What are the research priorities for idiopathic intracranial hypertension? A priority setting partnership between patients and healthcare professionals.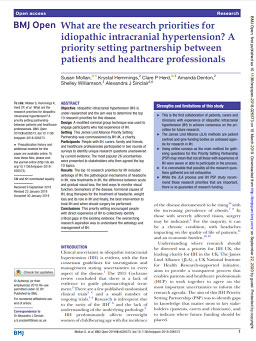 ---
Partners