Become A Member
Being a member of IIH UK not only shows your support but also provides you with access to our quarterly membership newsletter 'Heads Up', priority booking for our annual Patient Conference and social weekend fondly known as our 'Weekender'. Benefit guides and of course voting rights at our AGM. IIH UK is solely funded by fundraising, donations and membership fees and with fees starting at just £5 for the year, join and help us make a difference.
IIH UK have different membership options where you can join as an individual or family, for either 1 year or 5.
Membership pack contents:
1 Year individual membership - Membership leaflet, IIH Patient leaflet, What is IIH cards x 2. Medical ID cards x 2. Wristband x 1.
1 Year family membership - As above but wristbands x 2.
5 Year individual membership - As per 1 year individual plus 1 pin badge.
5 Year family membership - As per 1 year family plus 2 pin badges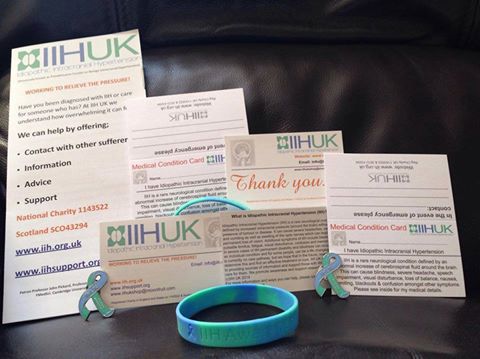 If you would like to become a member of IIH UK, please download and read our guidelines then visit our shop using one of the following links to purchase new membership or membership renewal online.
New IIH UK Membership or Membership Renewal
For all membership queries please email membership@iih.org.uk. Thank you.
Membership Benefits:
Membership Pack when you first join!
Benefit Publications - available here.
The Heads Up! newsletter will keep you up to date on IIH UK information, fundraising and any IIH awareness activities.
You will be emailed prior to the public announcement of the AGM and conference should you wish to secure a place.
Don't forget to read the membership guidelines.