15 Patient Conference Report
IIH UK 2015 Laura Broomfield Patient Conference
The 2015 IIH UK Patient conference was an extremely informative and successful event attended by over 80 people.
The day started with a talk from IIH UK Chair Sandra Doughty who spoke about IIH UK's achievements over the last year and the work that trustees had undertaken. Sandra spoke about how IIH UK worked closely with Dr Sinclair and her team of clinicians at Birmingham University and that the trustees sat on the Trial Steering Committees for Birmingham's Weight Trial, Drug Trial and the IIH Life Registry.
Sandra reiterated to the audience the need to find a cure and effective treatment for IIH patients and how important it was for Birmingham's trials to be a success. She went on to mention that the trustees reviewed patient leaflets for the Trials and how, after receiving approval from the Ethics Committee, IIH UK advertised Birmingham's trials to encourage better patient sign-up.
Sandra reported that trustee Victoria Davies had attended the 2014 British Association of Neuro Nurses conference, informing delegates about IIH and the work of IIH UK, and explained how conversations with NHS Choices had improved IIH information on their website, notably with the creation of a link to IIH UK's Medical Conditions Associated with IIH leaflet. Over 150 people had visited our website in the last few months as a result. Speaking about the IIH UK website, Sandra said that over 16,500 unique visitors had viewed the website in the first quarter of 2015 and she went on to say that over 26,500 people had visited it in total from January-March, with over 175,000 pages being viewed.
Sandra then read out a couple of statements from patients who had suffered for many years before being diagnosed with IIH without papilloedema and stated that more needed to be done by doctors as she believed that many other patients may be suffering without a diagnosis. Sandra's presentation concluded with good news, namely that Dr Sinclair had been commissioned by the Association of British Neurologists to write National Clinical Guidelines for the management of IIH patients, adding that a special interest group, consisting of neurologists, ophthalmologists, neuro-radiologists, GPs with special interest and Sandra (representing patients and carers) would be meeting in September to start the process. It is hoped that the clinical guidelines will be published by the end of 2016/beginning 2017. Sandra stated that this will be a big step forward for patients as, presently, treatment varied tremendously throughout the UK.
Dr Sinclair's presentation was very well received by the audience. Dr Sinclair spoke about IIH, its symptoms, how clinicians diagnose the condition and current treatments. She mentioned optic discs and why experts needed to look at images of papilloedema, as other conditions such as Optic Drusen can initially present as papilloedema to less experienced clinicians.
Dr Sinclair spoke about her experience in treating IIH and presented evidence from a weight loss study that she ran. The evidence had shown that weight loss had been effective in reducing ICP and improving headache in all the patients that took part in the study. However, she did acknowledge that weight loss is extremely difficult to achieve and maintain for many patients and that clinicians needed to develop strategies to help them.
Speaking about current medication, she acknowledged that headache is often not adequately addressed in IIH patients and there is currently not enough medical knowledge on how best to treat it. She stated that headaches are complicated and can often be contributed to more than one thing such as high pressure, low pressure, migraine and medication over-use. New IIH treatments are urgently needed including a drug which needs to be very effective for vision and headache and that could treat the underlying disease 'cure'. The drug would also need to have minimal side effects, unlike Acetazolamide, the primary medication currently used, which cannot tolerated by some patients.
To try and drive improvements in patient experience, IIH UK pushed out a survey asking patients to let us know what Lumbar puncture experience was like when patients were diagnosed with IIH. The results of the survey was analysed and presented at the conference by Dr Thomas Waters. Dr Waters stated that over 500 people had taken part in the survey and the survey had thrown up some interesting results.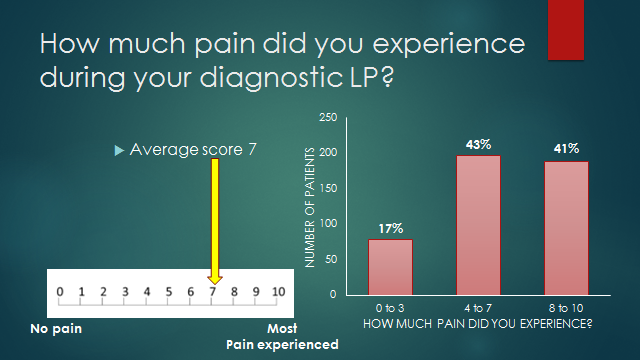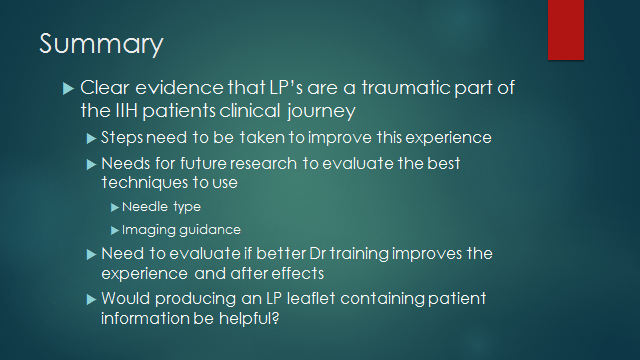 Dr Waters spoke about how the evidence showed that the more junior the doctor, the more patients experienced pain both during and after the lumbar puncture. He advised that steps needed to be taken to improve patient experience and further research was needed to evaluate the best techniques to use for lumbar punctures, such as imaging guidance or different needle types. In addition, evaluation was needed whether better doctor training is needed to improve patient experience. The full results of the survey will be published on our Survey Page shortly.
Dr Markey from the Birmingham clinical trials team explained clinical research. Dr Markey stated that IIH research was vital to improve treatment options and patient quality of life. The audience were invited to find out more about the current research at the information desk at the conference. Doctors present spoke to members who were interested in finding out more information about the weight trial and Drug Trial which are both currently recruiting patients. Dr Markey also spoke about further hospitals coming on board with the Drug Trial in the Autumn, including The Walton Center.
IIH UK Member Caroline Billings spoke about her experience of taking part in a clinical trial and why she had signed up to the Birmingham IIH Drug Trial. Her light-hearted speech touched all the audience and was warmly received bythe doctors present too. Read about Caroline's personal experience here
Dr Keira Markey, Caroline Billings and the IIH Team